Testimonial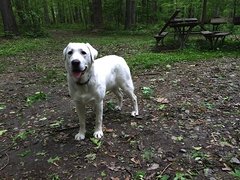 Here is Samantha. Eight months old yesterday and the light of our lives. She is a marvelous puppy, one of the best we have ever had: smart, responsive, loves people and other dogs, full of energy, and a very engaging personality. She is a delightful addition to our family.

~ Carol and Duane Webster, Potomac, Md - May, 2016

Now, for a little information about us! We have been raising labs for about 10 years. My husband has been raising and training labs since 1960's so we decided to get back into raising labs again. We live on a 50 acre farm, with a large pond, that all the labs can't wait to get into. Each lab has his/her own night time sleeping quarters. We also have a large fenced in area for the dogs to play in during the day, with fresh water daily. I am the primary care taker of the labs. I really enjoy the labs, and making sure their sleeping quarters are kept clean, with fresh water daily. I am really protective of all my labs, and I make sure that each puppy will have a good home, because labs are a very special breed of dog.
"A dog is the only thing on earth that loves you more than he loves himself
Your puppy will be waiting for you. Please read our warranty page, for more information.
THANKS
DORIS
The Gordons