HI DORIS AND RICHARD

WANTED TO SEND U A PICTURE OF BEAU. HE WAS LILLY AND DAKOTA'S PUPPY BORN 8-1-17. HE IS DOING WONDERFUL AND WE R SO HAPPY TO HAVE HIM IN OUR FAMILY. THANK U SO MUCH FOR BREEDING SUCH A PERFECT PUPPY. HE WAS WELL WORTH THE WAIT! WE LOVE HIM VERY MUCH

~ ROB & LAURA BAXTER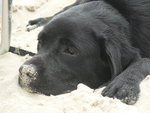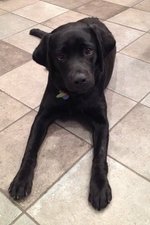 Hi Mr. & Mrs. Gordon,
A year ago today we picked up our black lab puppy we named "Bailey". Her parents are Pepper & Abby, and she was one of the last two puppies from the litter. She's the best addition to our family and has the sweetest temperament. She loves to play at the beach and swim in the ocean. Our 12 year old daughter adores her. Thanks for breeding such great dogs.
~ The Blanks family, Richmond VA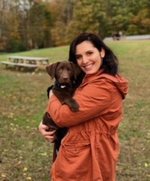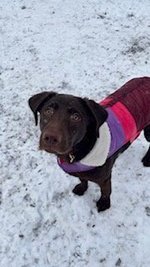 Hello!
I wanted to send you all an update and a few photos of my puppy Indigo "Indie", from Sugar Baby's August 2020 litter. She is doing very well and growing so fast! She is so friendly, sassy, active, and smart. I get so many compliments about how beautiful and sweet she is! Despite her small size, she seems to be fearless and will become friends with any person or dog! She also loves car rides and going to the pet store and dog park.
Thank you all for giving me my new best friend! I can't imagine life without her. I am looking forward to warmer days to take Indigo hiking - but for now she loves to play in the snow!
I hope you all are having a great 2021!
Best,
~ Valerie Thatcher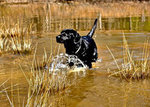 This is one of the most beautiful shots taken of Jack... He is the most awesome dog. I cannot tell you how much joy this dog has brought to this family. He has grown into the ideal lab. He is smart, obedient, loyal, funny, love-able, beautiful, majestic, and David's best friend. Even the neighbors are in love with him. Jay, next door, plays with him almost every day, and he has two dogs of his own! Lol!
~ Brenda Oaks, May 2010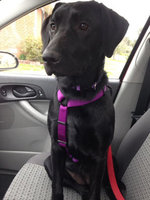 Good evening Mr and Mrs. Gordon
My boyfriend and I bought our puppy Lucy from you back in November 2013.
She is growing fast and healthy and we consider her the most beautiful lab ever(though we may be very biased on that). To this date, she is 65lbs at 8 months and is full of energy.
Thank you for breeding such a lovely dog who has made and continues to make our lives better every day.
~ Suzanne Trachy, Joey Wingo and Lucy
A few months ago, my husband bought a female white lab from you. She is doing great. She is beautiful and very loving. Her name is Snow Bear and we call her Bear. Bear is very playful and very good with our grandchildren. We live on a 100 acre farm and she loves to explore. I know you care about your puppies and I just wanted to let you know how she is doing. She starts puppy school in a couple of weeks. Thank you for offering such a wonderful puppy.

~ BJK 12/30/2010

Just wanted u to know we got a pup from u in march and we love her to pieces. she is so smart ,funny and loves the lake. she goes in the water everyday. she is healthy and full of life. she went with us on vacation to louisania , she did great. we just wanted u to know that jessie is having a good life., and she is a little spoiled. she loves her sunday rides and her trips to the doggie daycare sometimes .

~ Barry Gomez

We got our Sadiemae from u on March 15th. She will b a year old Jan. 28th. Just wanted u to know how happy she makes us. She has a mind of her own, very stubborn, with a unique personality, funny, beautiful. loyal companion. I could go on and on. We are so in love with her.

~ Cindy Blake

Hi just a note to u that we got Jessie from u in April she was born Feb 2.15.she has turned out to b a angel for us.lol.she is very smart and has her way with everything. She never meets a stranger and she is so loving to everyone. Everybody tells us how pretty se is a lot.I thought you would like to no she is in great shape and loved very much.and Crystal has spoiled her to McDonalds sausage about 4 times a week. i wish i could send u a pic.she loves the boat n always wear her lifejacket..lol she is the best.thanks for having a great breed of dogs.

~ Barry & Crystal Gomez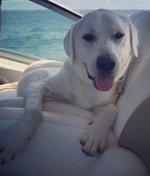 Hi Doris,
It's been awhile since you have seen Lola! She's a year and eight months today!! What a joy she has been! She is healthy and beautiful and gets compliments every day. She weighs 59 pounds and the vet has told us she probably won't get much bigger than she is now. She has been with a great dog trainer and she has learned so quickly and is doing so well for us! We take her to the beach and stay on the boat just about every weekend in the summer. My last child is heading off to college in a couple weeks and I am so very thankful I have Lola to keep me company!
I hope you are doing well! Take care!
~ Tracy Harris
We bought a black male from you in Oct/Nov 2013. Caesar is 3 today and is wonderful young fellow. We've had dogs all of our lives, and Caesar is one of the best - if not the best. Thanks for raising/breeding such quality.

~ Brian & Judy Leacock

Hi Mr. & Mrs. Gordon,

I just wanted to let you know how happy we are with our puppy "Walker" that we purchased from you all on March 28, 2014. He has fit right in with our family and we love him dearly. He loves playing with our Westie, they have become fast friends. Would love to send you a picture but I don't see an email address on here. We have recommended you all to everyone who asks and I am sure we will be in touch at some point down the road for another puppy in the future. Thank you again for raising such a beautiful boy for us!

~ Kim & Keith Godsey

Hello we bought a puppy from you 2 weeks ago I think. I just wanted you to know I am very impressed with your love and care you have for your babies. I've told everyone about how you were the best breeder I've ever dealt with. I will buy again if i needed. I felt the love you had and will never forget you looking at me and telling me you don't know what you would do without your dogs. I could tell by the kennels that were spotless, special toys the dog loves hanging there. It's so much so thank you. Your love for your animals is one I would never forget!

~ Vanessa Matteson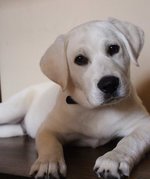 Dear Doris,
I wanted to send you a picture of our boy, Finley. We adopted him from you back in April. He is now 14 weeks old and the LOVE of our lives. He is so smart, funny, energetic, loveable and handsome (as you can tell from the picture). He is growing so fast and we are enjoying every stage with our little man. Thank you so much for this wonderful addition to our family. He is perfect!
~ The Moore Family - Jim, Tina, Sean and Raley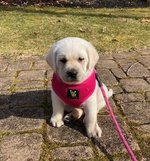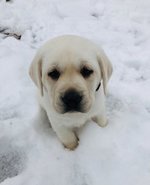 Hi Doris and Richard,
We just wanted to send you some pictures of Pearl. She is doing great and appears to be adjusting to us and our home. We got about 3-4 inches of snow last night and she has so much fun playing in it today. It wears her out!!
Everyone talks about how beautiful she is and I've passed along your information.
Thanks again!
~ Tara, Will, Cole & Josie Polhamus
Purchased a Lab from you four and a half years ago. Best dog I ever had.
Johnny Williams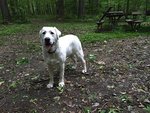 Here is Samantha. Eight months old yesterday and the light of our lives. She is a marvelous puppy, one of the best we have ever had: smart, responsive, loves people and other dogs, full of energy, and a very engaging personality. She is a delightful addition to our family.
~ Carol and Duane Webster, Potomac, Md - May, 2016
Good evening Mr. and Mrs. Gordon,

My husband and I got a pup from you earlier this month, and I just wanted to let you know that he is doing fantastic! We called him Toby, I Could not have asked for a smarter and more loving little dog.. He is healthy and playful without being destructive, and already housetrained after 10 days! He is kind to and getting along great with our older dog, he knows when it's playtime and when Hemi has had enough. My landlord has had English labs for a long time and she can't believe what a perfect puppy he is. We are so glad to have found your beautiful place and will definitely recommend :)

Thank you so much!

~ Iris Nolasco

Dear Mrs. Gordon,

I just wanted to thank you for picking the perfect puppy for me. She is the sweetest puppy ever and has already stolen many hearts. Not only is she beautiful but also smart: she's already learned a few commands, and potty training is going very well. Tomorrow we're starting her first obedience class and I'm excited. I'm looking forward to the new chapter of my life with Rosie; we're going to give her the best life!

Thank you again for all the good work you do with your dogs, and especially for Rosie, of course!

Respectfully,

~ Anna Cios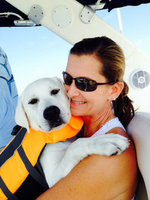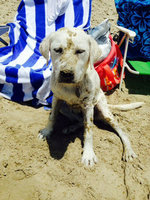 Hi Doris,
I had to send you my new favorite photos of LOLA ! She is loving boat and beach life!! We get soooo many people come up to us and tell us how beautiful she is. I just agree!! :)
Hope you are well!
~ Tracy Harris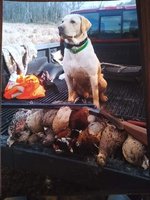 "Mr & Mrs Gordon
This is my Buddy
I thought you would like to see this picture of this pretty boy, it must be the good breeding. This is part of his breeding to he is so good at his job. He was 15 months old when this was taken. There are 12 pheasant there and he flushed and retrieved everyone of them. He is a good boy. You should see him.
Thank you Very Much
PS. He is smart too"
~ Thomas Ivey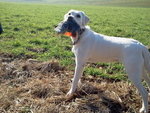 Mr.Mrs Gordon
This is our beautiful Emma we got from you in February 2013. We could not be any happier with her..She became family the day we brought her home. She's great with the children and is very affectionate and loving. She loves to cuddle at night and has to always be lying on me. She has brought nothing but joy into our lives. She has become an excellent bird dog and I couldn't be any more pleased. She was very easy to train and very forgiving for my lack of knowledge on how to train her. It was definitely in her blood to retrieve. We would like to thank you very much for for allowing us the opportunity to be blessed with such a wonderful addition to the family.
~ Anthony & Paula