Testimonial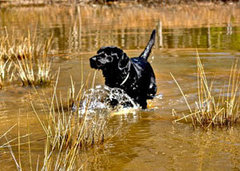 This is one of the most beautiful shots taken of Jack... He is the most awesome dog. I cannot tell you how much joy this dog has brought to this family. He has grown into the ideal lab. He is smart, obedient, loyal, funny, love-able, beautiful, majestic, and David's best friend. Even the neighbors are in love with him. Jay, next door, plays with him almost every day, and he has two dogs of his own! Lol!

~ Brenda Oaks, May 2010

At Luv My Labs, we make every possible effort to produce sound, beautiful, and happy puppies, and we are proud of the quality puppies we produce.  We wish we could offer guarantees that all of our puppies will be perfect, but unfortunately in dog breeding, as in life, there are no guarantees.  We have been breeding Labradors since the mid 1970s, and we stand behind our breeding program, and, therefore, we offer the following warranties:
To be covered by Luv My Labs Warranty:
The dog must be AKC registered and bear the prefix_luvmylabs
The dog must be registered in the name of the original purchaser.
The dog must not have whelped or sired a litter.
HIP, EYE, AND GENETIC ABNORMALITY WARRANTY
Puppies are warranted against crippling Canine Hip Dysplasia (CHD), Progressive Retinal Atrophy, and other genetic abnormalities, which make the dog unsuitable as a pet, up to 12  months of age.
If you suspect your dog has CHD or a similar crippling orthopedic problem, follow this procedure:

Notify us by phone or letter
Have X-rays taken of the affected area(s) and have your veterinarian submit them to the Orthopedic Foundation for Animals,  or similar independent certifying body for evaluation.
Send us a copy of the OFA/OVC (or similar) report.
Send us a letter from your Veterinarian stating that the dog is not now, and has not to his/her knowledge been in the past, significantly overweight.
 

If a Board-Certified Veterinary Ophthalmologist determines that your dog has Progressive Retinal Atrophy or similar blinding ophthalmic disease, and provided this determination is confirmed by electroretinography (ERG) (if appropriate), send a copy of the ERG and Ophthalmologist's report to us, and follow the instructions in paragraph 4 below.
 
If your veterinarian determines that  your dog has an inherited debilitating defect or abnormality, send us a letter, signed by your Veterinarian, indicating the nature of the defect or abnormality and stating that in the Veterinarian's opinion this problem is genetically caused, and seriously and negatively affects the quality of the dog's life or otherwise prevents the dog from being an acceptable pet or companion.  Euthanasia, Paragraph 4-a below, is the only option for a  replacement puppy. 
 
To qualify for a replacement puppy if preferred and available, and at the discretion of Luv My Labs, one of the following conditions must be met:

The dog must be humanely euthanized by your veterinarian and a letter from the vet stating that this has been done must be sent to us, or
The dog's registration certificate(s) must be returned to us, signed on the back returning ownership to us.  If you have not already done so, the dog must be sterilized and a letter from your Veterinarian stating that this has been done must be sent to us.  The dog itself need not be returned.

I have read and understood the above warranty:
PURCHASER_SIGNATURE__________________________________DATE______________
SELLER _SIGNATURE______________________________________DATE______________